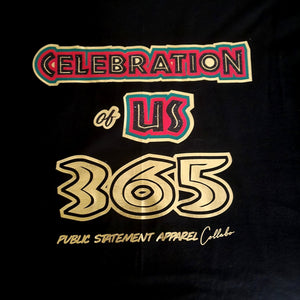 Celebration of Us X PSA T-Shirt - 365
Celebration of US 365 (front) Scannable QR code (back) to help provide donations for school supplies, hygiene bags, and lunches for youth in Black communities in LA., Riverside, and surrounding counties.

Medium weight cotton blend, unisex fit, black t-shirt, Gold foil, Black glitter, Red, and Green print. Available in sizes S-2X (youth and plus sizes are also available at request)

Celebration of Us
Celebration of US [C.O.U.] seeks to inspire the next generation to become inventors, scientists, artists, CEOs, and more. Founder, Duania Hall, hosts an annual party that brings people together to learn more about how Black people have contributed to American History. The C.O.U. party also includes sharing stories of family history, eating delicious food that represents our culture, dancing, and other surprises. Everyone who comes experiences a sense of community, love, and a new level of Black pride.
C.O.U. started in 2013 and has since expanded to community activism which aims to educate youth about Black History, elevate their self-confidence, and their self-love. The C.O.U. crew has provided school supplies, books, hygiene bags, and lunches to students and various organizations in Black communities.
Public Statement Apparel is honored to collaborate with C.O.U. to continue the work of inspiring the next generation through intentionally curated apparel and community activism. We believe that inspiring our youth is one of the best investments we can make and C.O.U. aims to do this, not just during Black History Month, but all year long. We hope you will join us!